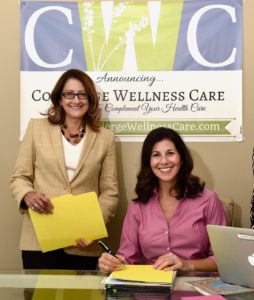 Have you been to multiple doctors and been dismissed with no solution?
Are you interested in getting off medications that address symptoms but do not address the causes?
Have you been given guidelines and then left to navigate the steps alone?
If so, consider Concierge Care.
What is Concierge Care?
We are a small but mighty practice, dedicated to patient care. We take the time to listen and will offer you a way to work toward your health goals with guidance, support, monitoring and tools for a determined amount of time. We work with you as a team.
How does Concierge Wellness Care help me?
By starting with diagnostic tests and the subjective information from you, we custom design a program that will start you on a journey that will facilitate natural healing. Because we are "Concierge", we are there with you on an ongoing basis in the following ways:
Consulting with you in person, on the phone or Zoom on a weekly, twice monthly, or monthly basis (depending on the chosen program)
Access to Dr. Campione and Jill Shanahan through email and text through the duration of the chosen program
Monitoring and helping you to navigate through your journey
Drop shipping or delivery of necessary supplements and test kits
Discounts on select supplements
The peace of mind in knowing that you have us in your pocket, at any time, during your journey.
We do the research so you can relax and heal
How do I get started?
Simply click on the Free Consultation link on our webpage https://conciergewellnesscare.com/free-consultation/ to get started.
This will take you to a questionnaire that you complete with your personal information and your health concerns. This will generate an email that goes directly to Dr. Sage's email.
You will then receive an email to set up time for a 20-minute talk with Dr. Sage. The conversation will allow you and Dr. Sage to determine the best course of action, in terms of time and level of care needed to appropriately address your concerns. Working with the natural cycles of the body takes time but can yield lasting results.
You will receive an email from Jill, with package and price information. She will schedule a phone call to answer questions about the program options and help guide you to the program that best fits your needs. Once the decision has been made, she will send you the agreement to sign, along with some preliminary questionnaires.
Upon receipt of the agreement, we roll up our sleeves and get to work. Dr. Sage may order labs and send additional questionnaires. After review, she will schedule your initial 90-minute consultation. A follow-up email and supplemental protocol will be provided.
Jill will reach out for an initial consultation as well. This is to discuss lifestyle and how modifications can lend themselves to supporting your goal. This can pertain to nutrition, movement, emotions, sleep, daily habits and all things about lifestyle.
Dr. Sage and Jill will design a "Timeline for Care", a roadmap to show you goals and the intended order that they will be addressed, so you know what to expect each step of the way.
We are committed to hearing you, spending time to have conversations that MD's don't generally have the time for and walking through your wellness journey with you.
Feel free to contact us for more information or assistance in getting started.