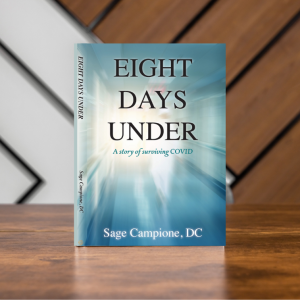 Eight Days Under
By: Dr. Sage Campione, DC
About the Book
There is always hope…even near death.
Chiropractor and Integrative Medicine practitioner, Sage Campione, finds herself as the patient in the ICU in Saint Simons, Georgia, with an extreme case of COVID-19 in March of 2021. "Eight Days Under" tells the harrowing journey of Dr. Campione being placed in a medical coma, including a near-death experience where she has an encounter with Jesus. She awakes to find people are dying all around her, and she is forced to become her own health advocate, despite resistance by medical staff. Sage's faith and determination help her survive, and she and her husband, Darrell, witness the power of a community rallying around them through a long and arduous healing process.
About the Author
Dr. Sage Campione is a Chiropractor and Functional Medicine practitioner. She has lived a life of service, beginning when she was a medic in the United States Army. Her passion for helping others led her to a career in Chiropractic, graduating in 1997 from Life University in Atlanta, GA with post-graduate training in Integrative Medicine from the University of Arizona. An understanding of the mind/body connection led her to broaden her scope of expertise. Her training includes Ayurvedic Medicine, Wellness, Nutrition, and Functional Medicine. She truly believes an integrated lifestyle will help you sustain a quality, healthy life.
Order "Eight Days Under" Today!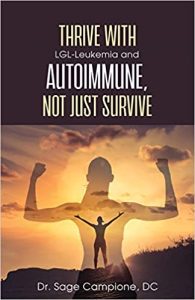 How to Thrive in Your Life with LG Leukemia and Not Just Survive
By: Dr. Sage Campione, DC
About the Book
As patient and the practitioner, Dr. Sage Campione discusses life with Large Granuloma Leukemia, as well as treatment options and lifestyle management tips in an effort to empower and optimize others with LGL and/or autoimmune disorders.
To all those with LGL Leukemia: Know that you have a choice to not live in pain, brain fog, or malaise. You can have a powerful purpose-driven life with JOY.
About the Author
Dr. Sage Campione was diagnosed in 2011 with LGL Leukemia. She lives and works in Saint Simons Island, Georgia, in the natural health field. She is a chiropractor and integrative practitioner who practices two days a week in the office and works from home other days, practicing integrative/personal lifestyle medicine via Zoom, FaceTime, or phone.
She and her husband are strong Christians in faith, and have an adorable fur baby dog named Gianna. In her spare time, she enjoys golfing.
(2023, paperback, 40 pages)
Hard copies are available on site at the St. Simons' office with $2 donated to our local humane society.
Available on Amazon
Available on Barnes & Noble
Available in hard copy and e-book at Dorrance Publishing
Visit our website at www.thrivelglleukemia.com for more information.